How Much Does it Cost to Build Safety Incident Software Like Preverly?
While improving workplace safety, every organization realizes the need for effective safety incident software. Sooner or later, your organization will also feel the necessity to have safety incident management software that helps in handling and preventing work-related injuries and illnesses. At that point, your organization can adopt an effective safety incident software like Preverly. Or, you can opt for developing your safety incident software, which would involve multiple considerable costs.To understand the costs involved in development of custom-made safety incident management software, Preverly is the best example. As an off-the-shelf software, Preverly is designed to adapt to different workplaces within an organization and offers flexibility across multiple industries. Preverly is also a fully customizable safety incident software, which works better when you assess the customization costs and post-deployment costs of your software.
In this blog, we discuss the true cost of building your own safety incident software, based on the development of Preverly safety incident software.
Why Build Your Own Safety Incident Software?
When it comes to "Build or Buy?" situations, most organizations consider buying software instead of building it from the ground up. And the main reason for that is the downright expense of custom software development. Your organization would certainly have to spend a lot on building its own safety incident software, instead of buying an existing safety incident management software such as Preverly. Even so, building your own safety incident software could give a key advantage to your organization.
The biggest advantage of developing a safety incident management software would be that it will fit your needs perfectly. Building customized software can help you fulfil your technical requirements for improving workplace safety. Integrating your other in-house operational software would be easy. Furthermore, an in-house safety incident software could run as on-premise software to protect the designated work locations of your organization.
These benefits highlight that such in-house safety software is quite essential for your organization. But how much would it cost?
Safety Incident Management Software – Cost Break-up
To determine the Return on Investment (RoI) of building such software, you need a precise break-up of costs involved in developing an effective safety incident software such as Preverly. Let's have a look:
Safety Incident Software – Cost Estimates
(average US pricing)

Planning
$1,500 – $2,000
UI/UX
<$20,000
Feature Development
$30,000 – $50,000
Prototyping and Testing
<$10,000
Cross-Platform Development
approx. $15,000
Estimated Total:
~$97,000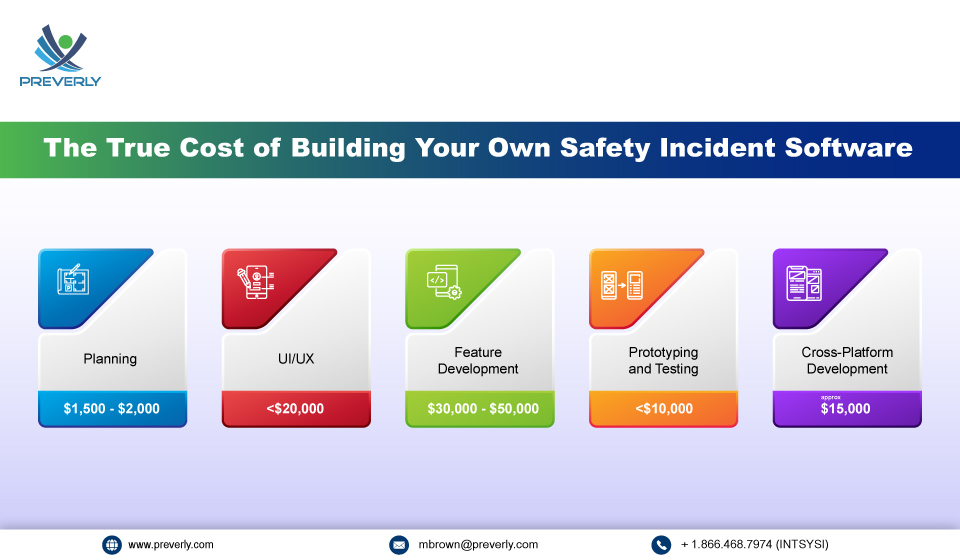 Planning
The first phase of your software development lifecycle (SDLC) will be planning. While the cost of planning your safety incident software would not be very high, this phase is still very important. In this phase, incident management software features are discussed and finalized. And, this could roughly cost you around $1,500. It could be a per meeting charge, or the company can bill you on hourly basis for the time of the business analyst, project manager, & the business development personnel to be in the meetings with you. Planning also determines how much money you would be spending on the other phases of SDLC. To plan better, your organization would require software architects and safety strategists.
UI/UX
Before stepping into feature development, prototyping the look of your safety incident software would be the next aspect. Like most organizations, your company would want a safety incident software that works as a web app, a mobile app, as well as desktop software. As a result, your software's user interface (UI) will be designed for all these three platforms. UI designers charge by the hour, which is approximately $20-80 per hour. This phase mainly involves:
Wireframing
Visualization
User Testing
Implementation
Moving on to the user experience (UX), the software needs to be easy to use and navigate. Hence, your UX developers would be testing different ways of making the software's usability easy and engaging. Together, the UI design and UX development together would cost somewhere from $2,000 to $20,000, based on your needs.
Feature Development
Feature development is the most expensive part of the SDLC. Here, your organization would need to spend anywhere between $30,000 and $50,000. To make the safety incident software rich in features, your developers would be spending weeks to months in this phase. Some of the key safety incident software features that you need to develop are:
Unified dashboard
Incident reporting
Incident tracking
Audit report generation
Incident status tracker
Emergency response channels
Centralized data storage
Remote access
Security and identity management
Automated notifications
While developing the features, you would have to purchase or license technologies. Third-party plug-ins and software add-ons will also add to these costs.
Prototype Testing
Your safety incident software should work as a safety tracking software as well as a safety observations management software. For this, you would be testing your prototypes. In this phase, the costs of testing your safety incident software prototypes could cost you around $10,000. You would be needing someone who is known as a quality analyst to test your prototype for all the desired scenarios, all the features, on all the devices, for all types of users etc. This phase is an ongoing process and you would be revisiting it and re-spending on it for making the software perform better.
Cross-Platform Development
Like Preverly, your safety incident software needs to be compatible with different operating systems. For example, the Preverly workplace safety app works perfectly on both mobile platforms – iOS and Android. Similarly, your organization would need to invest in cross-platform development and deployment of your safety incident software. This will help in making your in-house safety incident management software more accessible to employees and stakeholders. According to the standard estimates, cross-platform software development costs are above $15,000.
Additional Costs for a Custom-Built Safety Incident Management Software
To sum up, developing your in-house safety incident software could cost nearly $100,000. However, these costs could also increase when the safety incident software is deployed across your organizations. Existing software would require features and you may also need to spend on developing a training and deployment plan for the software.
Customization
The usability and features of your safety incident software would change from time to time. Customizing your safety incident management platform would entail additional costs. This will help you stay updated with the latest safety policies. An up-to-date safety incident software will also improve your in-house safety management capabilities. The cost of these ad-hoc changes is difficult to estimate but your organization should be ready for some overspending.
Deployment and Training
On-premise deployment of your safety incident software would cost you hundreds of dollars. This software will be deployed into your existing legacy systems, which is an expensive technical nightmare. Besides this, your organization should also consider the training costs. Based on the users in your organization, safety incident software training would easily cost $5-10 per user.
Should You Build Your Own Safety Incident Software?
By now, you've realized that building your in-house safety incident software would cost your organization more than $100,000. The real question is, "Is it worth it"? Instead of spending so high on safety incident software development, you should consider opting for Preverly, which is a SaaS solution developed to counter your workplace safety problems.
Preverly is a flexible safety incident management software that can be customized to fit your organization perfectly. It offers a sensible per-user cost, which is way less expensive than your custom software development budget, as discussed above. Unless your organization has no problem overspending its IT budget, Preverly safety incident software is a great match for your organization!
Why spend a lot on building your own safety incident software? Try Preverly workplace safety software, which is as good as your own in-house safety incident management software. Check out Preverly' brochure for more information and get in touch with us at mbrown@preverly.com