How Preverly Becomes a Key Part of Your Safety Management System
A safety management system is an organizational approach to apply safety procedures for measuring and preventing work-related illnesses and injuries. Every organization should have a safety management system in place to monitor and mitigate safety incidents at work. The organizations can save costs on property damage, medical treatments, and unnecessary lawsuits.
In the interest of protecting employee health, safety management systems have now become an integral component of every organization's workflow. Nowadays, you'll find safety management systems developed on advanced digital technologies. In addition, the use of software has also increased significantly to reduce the graph of unwanted injuries at workplace.
Preverly is a unique safety management software that helps safety managers with their responsibilities. In this blog, we discuss how Preverly improves the workplace safety of your organization by becoming a part of your safety management system.
What is Safety Management System?
Safety management is a set of organizational functions that identify, assess, and resolve risks at the workplace. Thus, a safety management system can be defined as a framework of methods for managing workplace injuries and applying proper measures to prevent them.
The safety management system is a necessary constituent that supports your organization's accountability towards protecting the safety of its employees. It comprises several support services and preventive measures, with the help of which your organization can maintain the safety of its employees at work. Every component of this system is designed to work on issues related to occupational health and safety. Therefore, a safety management system helps organizations safeguard the health of their workforce while they work.
What is the Purpose of Safety Management System at Work?
It is important to have a separate safety management system in place. However, this system cannot be integrated or adjusted with other operations because it serves a very distinct purpose. The purpose of a safety management system is to help safety managers create a structured approach for controlling safety risks and managing incidents. To fulfil this purpose, your organization's safety management system can either take a proactive approach or a reactive approach.
Reactive Safety Management vs. Proactive Safety Management
Reactive safety management is an approach where you manage the incidents once they occur. The purpose of this approach is to come up with immediate and innovative solutions to address workplace safety issues without following any pre-set strategy. However, reactive safety management systems are not adequate in most work environments.
Organizations like to be more prepared when dealing with work-related health risks. This is where they adopt the proactive approach for their safety management system. In this approach, the system follows a well-defined and strategic safety plan. With this plan, organizations can identify hazards before they take place. In addition, it helps in taking necessary actions to prevent safety risks in the future. As a result, preventing incidents becomes more feasible, which is the main objective of your safety management system.
When it comes to safety management systems, Preverly follows the proactive approach.
Main Elements of Safety Management System
Safety management systems are dynamic. A technical breakdown of these systems brings forth the following four critical parts in their structure:
Software
Hardware and Equipment
Safety Plan
Policies and Protocols
In this structure, Preverly plays the role of safety management system software, which is the most important element.
1. Software
Workplace safety software empowers every organization with its standardized management of work-related injuries and health risks. It records, tracks, analyses, and reports incidents, while covering various types of work-related health hazards. It also helps safety managers in implementing safety protocols, inspecting workplaces, and updating their safety plans. Being a core element of your safety management system, Preverly is more versatile in adapting to your organization's workplace safety processes.
2. Hardware and Equipment
To support the software capabilities, your safety management system requires hardware, devices, and additional equipment for the workers. Mobile devices are essential for providing access to the safety management system. For example, the Preverly safety management mobile app can help your employees get real-time information on incidents and their preventive measures. Besides this, your safety management system may also require on-premise hardware support. However, this hardware requirement is now being optimized with cloud storage services.
Equipment-wise, your safety management system will work effectively only when hazard prevention and control utilities are available for your employees. For example, personal protective equipment (PPE) such as helmets, goggles, and protective clothing are being used to ensure a robust implementation of the safety management system.
3. Safety Plan
The safety plan is a documented methodology that categorizes the health hazards and provides information on how to deal with each of them. It describes the process of following safety procedures and taking necessary actions to prevent these incidents. A good safety plan strengthens the safety management system by training employees on new safety protocols and procedures. In simple words, your safety plan is the blueprint of your safety management system.
4. Policies and Protocols
Environmental Health and Safety (EHS) protocols are extensively used in the development of the safety management system. With EHS protocols and policies, employees get access to a step-by-step guide on their safety management system. These policies ensure that everyone in the organization knows and understands the safety management system accurately. More importantly, these workplace safety procedures help in providing instant medical attention to incident-ridden employees. Therefore, your safety management system becomes highly effective when it follows the latest EHS policies and protocols.
Benefits of Preverly Safety Management System Software
Now that you know how your safety management system works, let's discover how Preverly benefits your system. Preverly workplace safety software has multi-purpose features and capabilities to boost the effectiveness of your safety management system. The following software benefits make Preverly an ideal fit for your safety management system: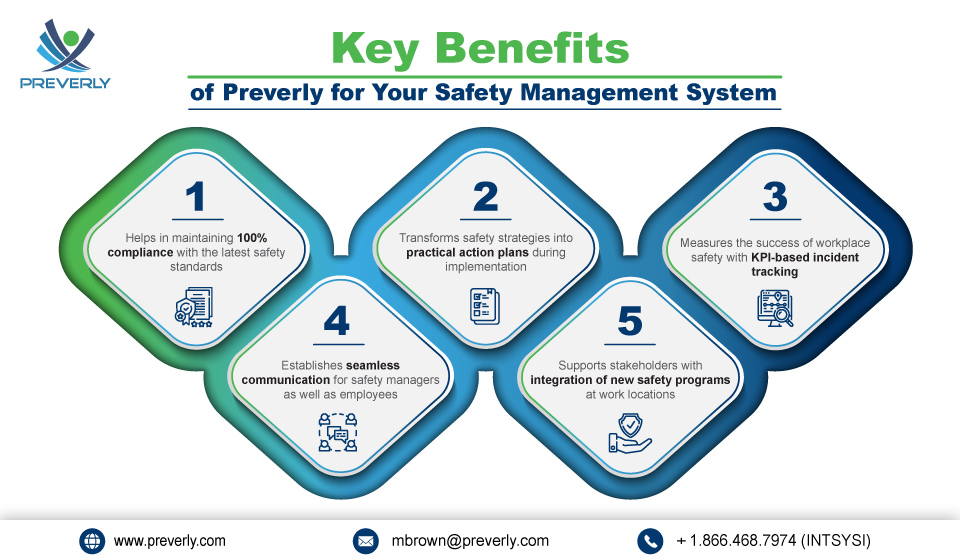 Preverly ensures that the safety management system remains 100% compliant with safety standards. It is designed to adapt to the latest safety standards while following the established EHS regulations. Most of all, the software helps employees adhere to these standards and enables safety managers to standardize their safety management system across all work locations.

When safety managers are not trained on implementing the safety management system, Preverly guides them through every step of the process. It contains documents that explain the structure of the safety management system. The software helps safety managers convert safety plans and strategies into actions. Ultimately, it helps the organization accomplish its strategic goals for workplace safety.

Preverly can assess the success of your safety management system accurately. It records and analyzes all safety-related activities to generate detailed reports. The software

tracks incidents with multiple KPIs

to check the impact of your safety management system.

Preverly can help employees share critical information during incident management. It provides various channels to establish internal communication seamlessly throughout the organization.

Improving your existing safety management system becomes easy with Preverly. By adopting the software, new safety programs and policies can be smoothly integrated into your safety management system. Moreover, it simplifies the implementation of the safety management system in new work locations.
These benefits make Preverly a sought-after software for your safety management system. In addition to this, the software is fully-customizable, making it a great fit for your organization's safety management system. Simply put, Preverly can blend in perfectly with your safety management system in all aspects.
Implementing Preverly in Your Safety Management System
By now, it becomes quite clear how Preverly makes your safety management system better. The software leaves no stone unturned to follow the purpose of your safety management system. In doing so, Preverly also ensures that the system stays updated and relevant with new developments in workplace safety. After implementing Preverly in your safety management system, you can notice various major improvements instantaneously.
Why should your safety management system lack software capabilities? Transform the way you approach your workplace safety with the power of Preverly software by getting in touch with us at mbrown@preverly.com.