3 Ways to Increase Workplace Productivity with Preverly Safety Management Solution
Employees feel confident working in safer workplaces where they can focus more on their tasks instead of distressing over health hazards. This change in attitude happens when an organization implements a safety management solution. An effective safety management solution can improve your workplace safety and boost productivity within your organization. It helps you understand the importance of workplace safety and how employees can deliver better results in the presence of a safety management solution.
Preverly is an end-to-end safety management solution that improves the safety of your workplace. The safety management software helps your organization record, track and analyze work-related injuries and illnesses. As a result, it helps you prevent industrial accidents and lower the occurrence of these workplace incidents. In addition to this, by using the Preverly incident tracking software, the top management can stay updated on the status of these incidents. The incident management software also helps you enforce Environmental Health and Safety (EHS) procedures efficiently to keep your organizational workflow intact in the event of work-related incidents.
In this blog, you'll explore how Preverly safety management solution improves your business productivity.
The Role of Workplace Safety in Business Productivity
Before discussing how this safety management solution improves your business productivity, let's understand its role as a solution for improving overall organizational efficiency. Over the years, enormous amount of data has been recorded on how work-related hazards are responsible for decreasing the productivity of organizations to a great extent.
According to the European Commission, factories in the UK lose over €1 billion in annual revenues due to productivity loss caused by industrial accidents.
However, this huge loss of productivity is avoidable by implementing an effective safety management solution at workplace. It helps in reducing productivity loss in three ways:
Helping the organization resolve existing incidents faster
Preventing the recurrence of work-related incidents within the organization
Aiding the workforce by establishing a safety culture in all work locations
Firstly, the safety management solution helps in resolving workplace safety incidents faster. In this process, your organization achieves quick recovery from an incident. This allows your employees in resuming their work-related activities in no time. As a result, your production schedule is not delayed extensively.
Following this, your organization can easily avoid work-related incidents with the help of a safety management solution. Furthermore, features like Risk assessment and incident analytics can help you achieve the non-occurrence of incidents. By helping your organization prevent incidents early, your employees are no longer distracted by their health & safety concerns. Therefore, the safety management solution helps in reinforcing the focus of your employees in their work.
Last, the safety management solution also aids your organization's efforts towards establishing a safety culture. Now, a company-wide safety culture can enforce workplace safety procedures more effectively. When your employees follow these safety protocols properly, the likelihood of an incident occurring & its impact on your productivity is reduced significantly. Because of that, your organization can counterbalance its productivity during work-related safety incidents.
How Preverly Safety Management Software Helps Your Organization's Productivity?
Preverly is a flexible safety management solution that goes a step beyond improving workplace safety. It helps in creating a productive environment where your employees can always deliver better outcomes. As safety management software, Preverly holds several benefits that nullify the impact of unpredictable incidents on your production capacities. Every year, this safety management solution is helping organizations scale up their business by keeping their worksites safe.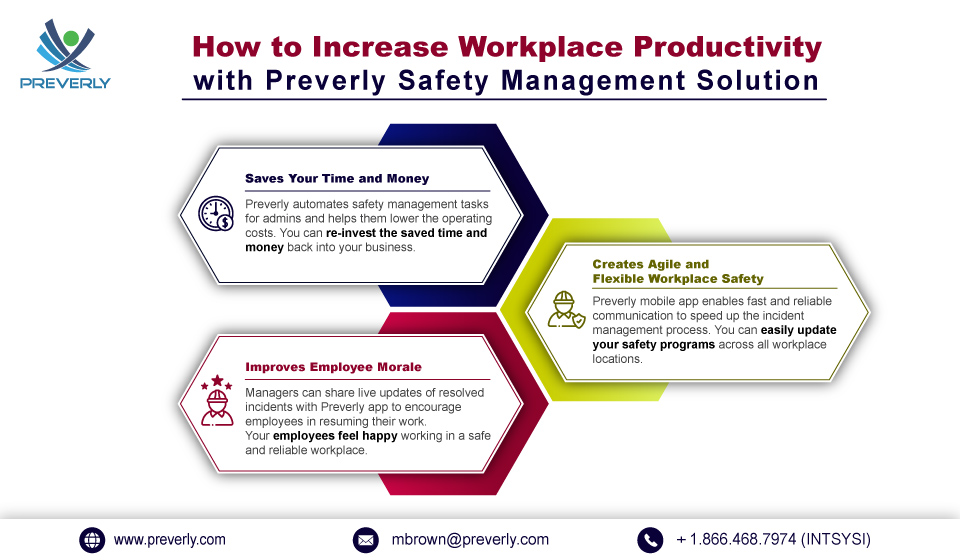 The safety management solution has three unique ways of improving the productivity of your organization, as follows:
1. Workplace Safety Software that Saves You Time and Money
Safety managers and site administrators spend a lot of time monitoring the health of their workplace. Preverly helps them spend this time with a more hands-on capacity by automating several safety managements tasks. For example, the safety management solution provides instant updates on the incident status and employee health. This is a major timesaver for daily task scheduling and follow-up practices.
The admin personnel can invest this time in managing more productive tasks such as incident analysis and EHS data review. The safety management solution also offers real-time notifications, which helps in avoiding delays during critical incident management operations.
With the Preverly safety management solution, your organization won't just save time. The software also helps you reduce the operating costs of your safety departments with its automation. And, this lowered operating cost translates into increased employee productivity. Furthermore, the Preverly safety management solution helps in reducing the recurrence of incidents and lowers their financial impact on your company.
As a result, the money saved on medical fees, industrial fines, worker compensations, and legal settlements can be invested back into your business. In such a way, the safety management solution provides profitable returns within a year of investment, or even shorter.
2. Risk Management Safety Solutions for Agility and Better Flexibility
Today, most successful organizations produce goods and services in adaptive and evolving environments. Preverly safety management solution helps your organization become more adaptive to the changes in working conditions. For example, the safety management solution enables you to update safety programs as per the latest EHS protocols of your industry. It also notifies employees about these updates and keeps them in the loop of these workplace safety changes.
This safety management solution makes your organization more agile by establishing fast and reliable communication between the management and employees. Your production processes and assembly lines can move quickly and easily when the software helps you handle incidents efficiently.
Moreover, this safety management solution offers integrated mobile connectivity with the Preverly workplace safety app. Site managers and workers can use this app to communicate remotely and instantly. The Preverly app also simplifies the management of facility-level tasks.
Your organization can manage incidents for a very large workforce by implementing this safety management solution across multiple work locations. The app works well on both Android and iOS devices, making Preverly the most compatible safety management solution for your entire organization.
Even with multiple departments and industry-specific safety programs, this safety management solution offers an organized way of solving your cross-location workplace safety challenges. In these aspects, the Preverly safety management solution boosts the speed of your operations and makes your safety measures more responsive.
3. Safety Management Software that Improves Employee Happiness and Morale
At this point, it is quite clear how Preverly safety software drives the operational productivity of your organization. With a unique advantage, this safety management solution also makes your workforce more productive. Preverly has various features that can encourage your employees and boost their morale at work. For example, the 24/7 technical support for the software helps your employees solve their workplace safety concerns instantly.
Similarly, the safety management solution also allows your managers to upload site photos and videos after resolving the incident. Getting real-time updates on incidents is another confidence booster for your employees. They feel happy working with your organization, which takes great care of their health and well-being. Consequently, they give their best at work.
As a comprehensive safety management solution, Preverly also increases transparency in your organization. To make their site accident-free, workers can use the Preverly app to share their feedback immediately and clearly to your safety managers. With this feedback, your safety managers can fix the workplace from risks involved with:
Faulty equipment
Spillage
Material contamination
Hazard-prone operations
By keeping everyone in your business organization healthy and happy, this safety management solution drives your productivity levels. In one way or another, Preverly contributes to helping your employees achieve their goals at work. At the end of the day, Preverly safety management solution enables you to make your workplace more hospitable. And by doing so, your employees feel happy spending their work hours at a safe and reliable workplace.
A Safer Workplace Delivers Better Results
It is certainly interesting to realize how a safety management solution like Preverly affects your organizational productivity. These three ways showcase Preverly's capabilities in providing a cost-effective, flexible and robust safety management solution for your business. In many ways, it lowers the loss of productivity caused by work-related injuries and illnesses. Preverly safety management solution emerges as one of the most profitable investments for your organization in the long run.
Is your organization losing productivity due to recurring safety incidents at work? Encourage your employees with improved workplace safety and enhance your business productivity with Preverly by contacting us at mbrown@preverly.com