How a Safety Software Can Be Beneficial For Mining Industry?
Mining is one of the most vulnerable industries in existence. That is why companies should give priority to the worker's safety on the job. Workers are exposed to harmful materials and potential breakdown risks daily. So, it is the prime duty of companies to deploy effective mine safety solutions.
While the primary function of mine safety solutions is to eliminate workplace incidents and accidents and if anything happens it should be reported immediately. Health and safety risks to miners, the mining management software also focus on reducing the plant's chances and the structure and ore body of the mine.
The workers on the mining site are open to a lot of risks. Due to their regular exposure to airborne dust, miners are at risk of developing a lung disease known as pneumoconiosis. Exposure to exhaust from diesel engines has a more significant risk of death due to lung cancer – a safe working environment is what they wish for – and mining management software can help organizations to make the environment secure. This will enhance the team's spirit to provide their best contribution without the fear of being injured.
Mining Management Software – Key Benefits
Now, you must be thinking, how safety incident management software in mining can offer complete safety at the workplace? Well, we are aware that it's extremely cumbersome to deal with a traditional safety management system as it involves lots of paperwork, many regulations, and additional details to fill out and file. Our cloud-based mining management solutions from Preverly simplify this job and make it easy to navigate and execute safety programs consistently.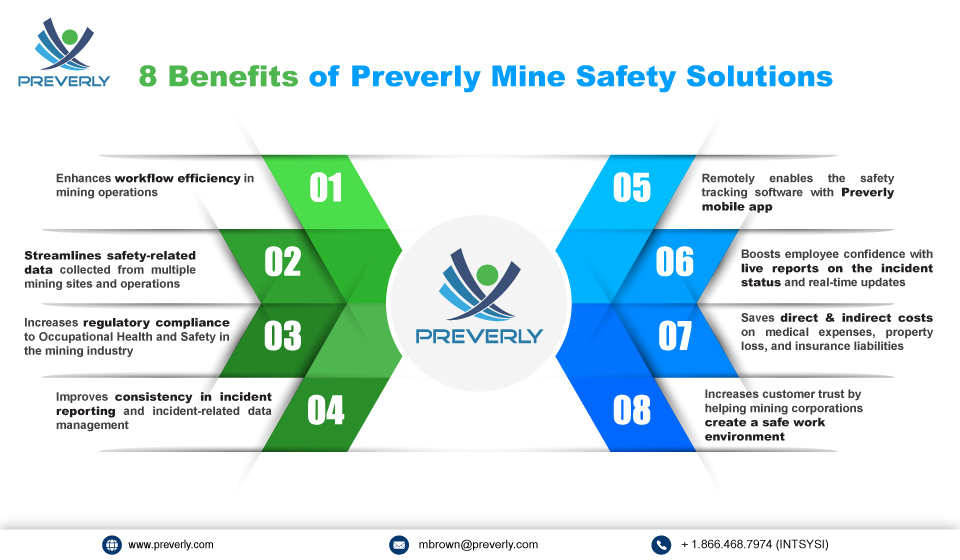 Mining management and safety regulations are more comfortable to accomplish using mine safety solutions. This will not only save the time and energy of the workforce, but it will also improve the business aspects. A mining safety management solution can help you in the following ways:
Enhanced Efficiency
This streamlines your reports by storing and tracking all relevant data in one easy-to-access area. Adapting mine safety solutions is one of the best ways to improve the efficiency of your business. A mining safety management solution helps you in many areas. It reduces the number of medical leaves that your staff takes, resulting in a reduced number of temporary workers required. It Improves staff retention rates and enhances productivity. Lowers insurance premiums as well as decreases training costs for temporary and new staff.
Streamlined Data
Using standardized forms – offline and online will help staff and management collect any relevant information depending on the incident. The conditions can be adjusted to fit your specific needs without preceding any data required to comply with new mining management and safety regulations standards.
Increased Regulatory Compliance
Regulations are getting rigid and non-compliance is increasing day by day resulting in severe punishments. Adhering to regulatory compliance becomes difficult if your staff is not up to date with the new procedures. Without an automatic procedure on-board, it is extremely difficult to inform everyone manually about the new safety regulations. Preverly helps your staff stay updated and be aware of new regulations and legal requirements. This improves your regulatory compliance and lowers the chances of you having to pay the penalty.
Improved Consistency
In collecting and filing data, you need to be always consistent every time. Our mine safety solutions help you perform the task free from subjective error, i.e., with accuracy and consistency. With safety incident software, you can review the past data whenever needed and make decisions accordingly.
Enabled Remote Use of Safety Tracking Software
This provides a useful tool to report information from your mobile when you do not have access to your office. The data from your phone can be synchronized with that of the official records.
Boosted Employee Confidence
When employees notice whether their managers are taking a genuine interest in their health and safety, their morale inevitably goes up. Employees will start feeling more comfortable and secure as they will have a set of clear and exact guidelines to follow in any situation, helping them gain confidence while at work.
When you start executing an efficient safety management system, you will notice that workers' output and self-esteem will improve. Employee retention rates will increase, resulting in your organization's overall growth. A comprehensive mining safety management system helps ensure that miners are more protected from a wide range of threats and health problems, such as injuries, falls, skin diseases, hearing disabilities, etc.
Saved Direct & Indirect Costs
Suppose mining management and safety regulations are reasonable and updated in any mining industry office such that it provides a consistent and reliable database of information related to any incident. In that case, it is unlikely that your business will suffer from legal penalties. This will improve not only the worker's health but also the financial health of the company.
You will be able to save money by being able to track and monitor accidents and incidents, and therefore work on a useful measure for reducing the risks faced by your employees. With the reduction in the number of staff compensation claims that push up your insurance premiums, you will be able to save money too. Use Preverly, our cloud-based safety observations management software, to reduce injuries and illnesses. The insurers may offer lower premiums knowing that you are efficiently controlling your employees' risks on your mining sites.
Increased Customer Trust
When you take your worker's health and safety seriously, they get a positive impression of your ethics and company morals. So, emphasizing mining management and safety regulations shows your workers that you value their rights, their life and provide them a safe and healthy working environment.
Conclusion
Thus, if taken care of in a practical way, mining management solution can boost your public image, reduce workplace injuries, making reporting easy, remote monitoring will be possible and most importantly it will boost productivity which will be a win-win for both you and your workers.
If you wish to know more about safety solutions by Preverly and how to integrate them on the worksite, feel free to contact our team at mbrown@preverly.com.