How to Improve Safety at Workplace using Workplace Safety Software?
In any organization, it is an employer's first and foremost duty to maintain a safe and healthy workplace because if you are running an unsafe procedure, consequences can be grave, even deadly. It is also in the organization's best interest to ensure their staff's occupational health and safety at the workplace. The traditional safety programs are doing things with a pen and paper & analyzing that data can be tedious and slow. Workplace safety software is the latest trend in workplace safety management that can help you in many ways. Moreover, lack of adequate safety measures leads to injuries and illnesses on the job, significantly hampering staff productivity and reducing profitability.
Therefore, switching to workplace safety software can be your best choice in today's high-paced and result-oriented work culture.
You must have heard a common saying – "A safe workplace is an efficient workplace."
What is Workplace Safety? and How to Maintain It?
Before digging into the methodology of improving workplace safety or in organizations, let us first understand what is meant by workplace safety. Workplace safety relates to many things such as safety from unfavorable incidents at the workplace, like safety from chemicals, equipment, electrical safety, fire safety, and all other machinery.
An excellent workplace safety strategy means providing a protective environment to onsite workers. The safety measures for different organizations may vary upon their nature of work and environment. Thus, it is evident that workers' physical, mental, and emotional abilities should not be limited by unsafe situations to achieve high efficiency and productivity levels.
Why Implementing Workplace Safety Software is Better than Traditional Safety Practices?
Let us now explore the different types of safety management systems adopted by companies. A safety management system is nothing but a series of policies and measures companies use to reduce accidents and illnesses among employees. Workplace safety software is automated safety tracking software that can ease the process of accident reporting in the workplace. So, switching to workplace safety software is the best option for organizations in today's high-paced and result-oriented work culture.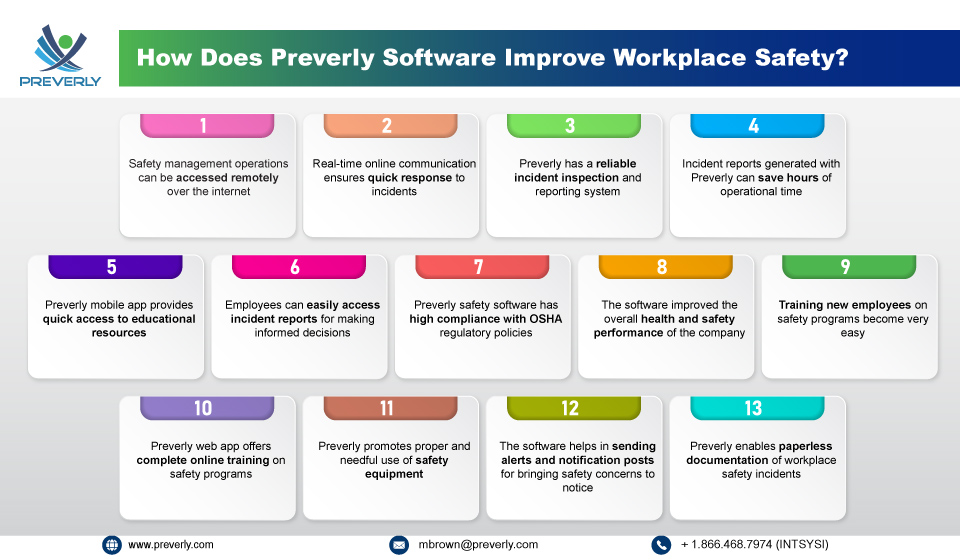 Have a look at the benefits of using workplace safety software:
Automated Systems can be Accessed from Remote Location
Onsite workers can rapidly record data about an incident report with their mobile, tablets, or computers and send it to higher authorities with a single click.
Fast Response to Emergency Circumstances
Automated reporting gives real-time updates on the system, facilitating an emergency unit to provide a simultaneous response and help to the suffering worker.
Reliable Incident Investigating and Reporting
Electronic reporting combines all reports coming from various departments in the organization into one place. This will save much time as the management does not have to sort them by hand. With the click of a button, they can filter and organize the data.
Direct Time Saving for Real-Time Reporting
Timely reporting is critical to ensure immediate response to incidents. Reports can be made available by adopting the electronic reporting technique without wasting time. It also reduces the decision-making time about an incident in the workplace.
Additional Safety Resources for Employees
Employees will have added resources with them at the workplace in terms of safety tips and automated software. They can effortlessly view these resources through their mobile apps and check policies they are asked to follow by their employer to maintain safety.
Access to Incident Reports in Real-Time for Better Decision Making
Data gathered by safety incident software is more relatable, specific, accurate, and prompt, which will enable the top management to assess risks in the organization and help them in planning and policy-making.
Better Compliance with Regulatory Policies
With safety incident management software Preverly, it is easier for companies to comply with regulatory policies and submit accident reports digitally to the Occupational Safety and Health Administration (OSHA) as per their norm.
Improved Health and Safety Performance in the Company
Using the cloud-based workplace safety software Preverly, the top management can access necessary documents online and do the needful to avoid future accidents to a great extent. Employees will feel safe while working when organizations will have such advanced technology onboard, leading to increased productivity. Useful safety observations management software also reduces the number of injuries and illnesses, thereby reducing the number of leaves taken by the workers, enhancing the overall growth or productivity of a company.
Educating New Employees about Safety at the Workplace
All the company workers, including the new employees, should be trained in using workplace safety software. They should also know how to report to the higher management about any unsafe work situation.
Complete Online Training
Tips for safety at the workplace should be provided in an interesting and informative way with the aid of seminars, videos, and other interactive tools. Game shows and quizzes can be organized within the employment space, which links to safety rules and provisions.
Proper Use of Safety Equipment will be Encouraged
Depending on the work's nature, safety software at the workplace will help workers give info about wearing helmets, caps, shoes, gloves, eyeglasses, and proper clothing. This can substantially reduce accidents and injuries.
Posting Safety Signs and Notice
Proper safety and warning signs should be placed around warehouse or manufacturing units wherever there is a risk of accidents. These signs will remind workers of the safety tips to be adopted while working and keep them alert.
Going Paperless is the Need of the Hour
Going paperless reduces your carbon footprint and paper consumption, which is highly beneficial for the environment and humanity.
Conclusion
As an employer, you must protect your workers and provide a safe environment. Frequent meetings to review safety rules and discuss preventive measures are beneficial for the employees, employers, and the organization.
When companies adopt Preverly workplace safety software to lower accidents and injuries, the company's turnover is improved and can significantly reduce employee accident compensation. Moreover, it will help you save money and increase the company's overall productivity.
In case if you have any queries regarding our workplace safety software Preverly, please get in touch with us at mbrown@preverly.com.