Top 5 Benefits of Workplace Safety Software You Need to Know
Every organization has to manage its workplace safety effectively to protect the health of its workforce and save costs on medical expenses or lawsuits. For this purpose, organizations need a workplace safety software. The software should be loaded with technology and tools to offer multiple advantages for workplace safety managers. With the help of such workplace safety software, your organization becomes more capable in taking necessary actions that prevent and resolve safety incidents at work. Preverly records, tracks, and analyzes safety incidents at multiple levels, helping safety managers in their responsibilities. At the same time, the workplace safety software also allows employees to identify and inform these incidents to the management. This way, Preverly acts as an end-to-end workplace safety software for your organization.
In this blog, we'll discuss the five main benefits that make Preverly a very useful workplace safety software for your organization.
Top 5 Benefits of Preverly Workplace Safety Software
In several aspects, Preverly emerges as the best workplace safety software in the market. Compared to other safety software solutions, Preverly offers a more systematic approach to safety-related activities. This workplace safety software is actively used by organizations spanning diverse verticals, from manufacturing and construction to healthcare and retail.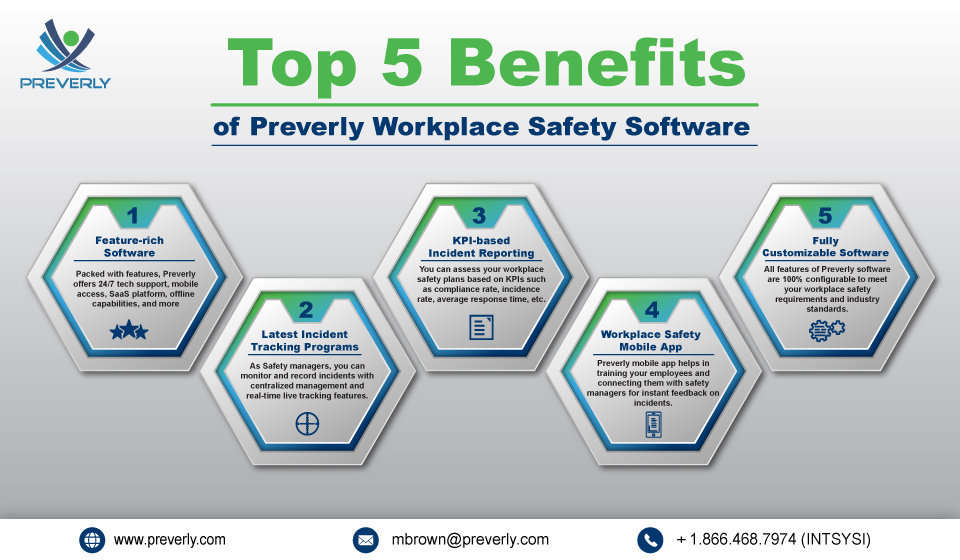 Here are the five key ways how your organization can benefit from Preverly workplace safety software:
1. More Feature-Rich than Other Safety Software Solutions
One can measure the value of workplace safety software based on its features. In that case, Preverly has a wider range of valuable features than almost every other workplace safety software. From its resourceful incident management platform to its accurate incident tracking tools, the software is packed with dozens of functionalities. Some of the best features of Preverly workplace safety software include:
Interactive web application
Easy to use on all mobile platforms
24/7 technical support
Multiple offline features
User-friendly experience
Industry-wise flexibility
Software-as-a-Service (SaaS) platform
One of the most important features of this workplace safety software is its sensible per-user cost. Unlike most safety software solutions, Preverly offers optimized pricing to its customers. Your organization can adopt this workplace safety software with an affordable investment, and in return, save big on work-related illnesses and injuries.
2. Latest Safety Software Features for Incident Tracking
Preverly adapts easily to changes in the Environmental Health and Safety (EHS) standards. It transforms your organization's safety plans according to the latest developments in incident tracking standards and safety policies. For incident tracking, in particular, the workplace safety software comes with the most advanced set of safety software features. These make incident tracking easy in all aspects.
For tracking incidents effectively, the safety software offers centralized management and a real-time live tracking system. The workplace safety software centralizes the incident tracking activities in one location. It stores the tracking data in a single location at the discretion of the safety managers.
In addition to this, the workplace safety software tracks the status of every incident in various ways. It transforms the incident management process of your workplace safety plan by tracking information from official incident statements and updating them with relevant videos & photos. Besides this, Preverly also keeps a track of the status of incident tracking-related documents. Therefore, Preverly workplace safety software acts as a great unified platform for tracking work-related injuries and illnesses, documentation & record-keeping in your organization.
3. KPI-based Incident Reporting for Safety Software Systems
Key performance indicators (KPIs) are essential for measuring the success of safety software systems. When Preverly becomes a part of this system , it uses multiple KPIs to monitor and report incidents. The workplace safety software runs a KPI-based incident reporting process that helps safety managers cover maximum grounds. It reports incidents based on important KPIs such as:
Type of Incident: Categorizes the incident based on the work environment, nature of the activity, equipment used, and other parameters.
Compliance Rate: Determines the percentage of non-compliance with safety standards at the time of the incident.
Recordable Incidents Rate: Calculates the total number of recordable incidents taking place in a year.
Recurring Incidence Rate: Measures the time taken for the work-related illness to spread across the workforce.
Average Response Time: Estimates the average time taken by safety managers and medical officers to respond to an incident.
Average Recovery Time: Estimates the average time taken to restore the employee's health and resume the workflow post-incident.
With the values determined by these KPIs, the workplace safety software visualizes this data for safety managers and other stakeholders. Based on this data, your organization can generate detailed incident reports on the software, which help in defining the goals to reduce safety incidents at work.
4. Workplace Safety Mobile App by Preverly
In addition to being a highly functional workplace safety software, Preverly also offers better accessibility and mobility with its workplace safety mobile application. Similar to other EHS mobile apps, the workplace safety mobile app by Preverly improves the implementation of safety plans. It keeps the safety managers connected with the employees seamlessly with online communication channels. The workplace safety mobile app helps in training employees on new safety policies and updates them on existing safety plans. With the Preverly mobile app, your organization can get honest feedback on your workplace safety plan directly from your employees.
Preverly's workplace safety mobile app also offers:
Real-time incident reporting
Instant audits and remote inspections
Access to safety-related documents such as Safety Data Sheets
Real-time safety alerts and notifications
Features and information available on the mobile app and the workplace safety software are identical. Therefore, there is no mismatch between the mobile app and the software. Furthermore, your organization can mobilize its preventive actions with Prevelry workplace safety software by providing your employees access to this mobile app. Ultimately, this workplace safety software makes things faster and convenient for your workers with the help of this app.
5. Fully-Customizable Work Safety Software
Preverly offers 100% customization in its work safety software based on the client requirements. It has a limitless capacity to change and adjust its configurations as per the workplace safety requirements of your organization. The workplace safety software provides complete scalability and high industry flexibility. This means that Preverly can work perfectly well in heavy industries as well as small-scale factories. Based on the industry standards and the level of safety risks, the workplace safety software can be made to optimize processes. For example, you can modify mobile app features or bulk up the security measures of this workplace safety software as necessary.
A unique competitive advantage of this workplace safety software is its tailor-made features. Preverly developers can configure the stock features of their software to make them more purpose-built for your organization's unique work environment. Additionally, these customizations are cost-effective, ensuring that the workplace safety software helps you embrace a new identity affordably.
More Benefits of Preverly Workplace Safety Software
The benefits of Preverly workplace safety software don't end here. There are more ways in which your organization can make use of this workplace safety software. Preverly offers hassle-free report generation for quicker risk assessment. It can work as a cloud-based SaaS platform as well as an on-premise workplace safety software. Preverly is also compatible with all devices and platforms and can work in any environment. This list of benefits goes on, highlighting the fact that Preverly has endless ways of improving the safety management of your workforce.
So, what's stopping you from having a first-hand experience of these benefits? Your organization can recognize how the workplace safety improves with Preverly software by contacting us at mbrown@preverly.com.