How Does Preverly Workplace Safety App Work on iOS and Android Devices
Workplace safety app is an essential tool for improving the occupational safety of your employees. This type of mobile application can make your workplace safety plan successful in multiple ways. It can enable workers to report incidents instantly and submit their feedback remotely. As an online communication channel, the workplace safety app also keeps the workers and the safety managers connected at all times. However, platform compatibility has been one of the major concerns for several workplace health and safety apps in the market.
Preverly workplace safety software has overcome this challenge by offering its workplace safety mobile application for Android and iOS operating systems. As of 2020, there are around 2.5 billion Android smartphones and tablets in the world. Correspondingly, more than one billion iOS devices are being used across the globe. Preverly developers offer a fully functional workplace safety app for iOS and Android users to capture these huge user bases. This mobile application makes the Prevely workplace safety software more accessible to workers and adds mobility to its workplace safety activities, from incident reporting to medical response actions.
Therefore, Preverly workplace safety app can add immense value to your organization. Let's find out how this workplace safety app works on your Android and iOS devices.
The Importance of Workplace Safety Apps for Your Organization
Before learning how the Preverly workplace safety app works on iOS and Android devices, let's understand why this app is significant to your organization. Most organizations agree that their workplace safety becomes effective when the safety standards & practices are followed at the grassroots level. For improving this safety compliance among workers, the Environmental Health and Safety (EHS) standards need to be effectively implemented,which can be easily done with the help of a workplace safety app.
The workplace safety mobile application by Preverly is a unique digital platform that provides access to the safety standards and the software capabilities via mobile devices. With this workplace safety app, workers in your organization gain anytime/anywhere access to:
Safety procedures (pre- & post-incident protocols)
Preventive actions
First response guidelines
Safety management checklists
Incident forms
In addition to these accessibility benefits, this workplace safety app also offers real-time notifications of a potential hazard observed by fellow co-workers and becomes a life-saver for most working environments. But, the real question is:
Why does your organization need a Preverly workplace safety app?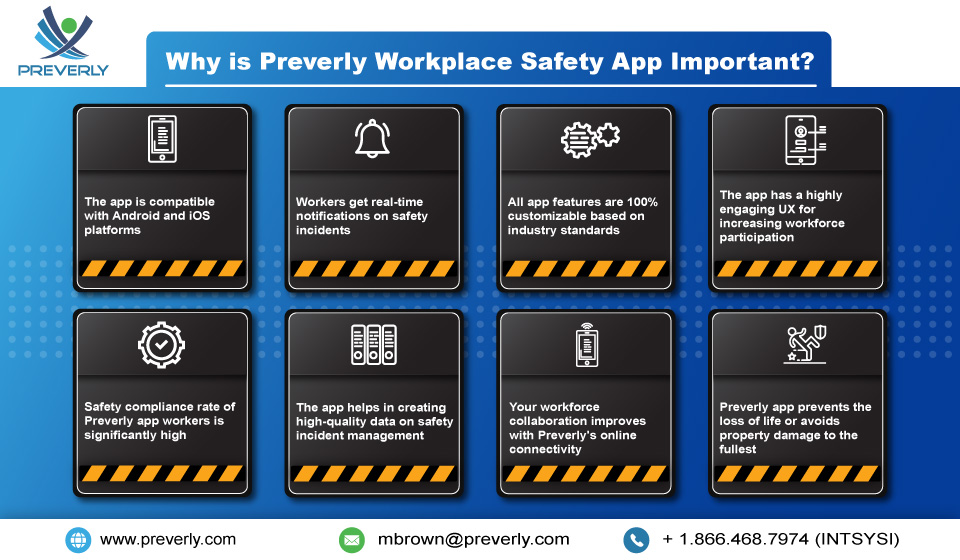 The importance of the Preverly workplace safety app can be measured in the following ways. These factors underline how the Preverly app benefits your organization unreservedly.
Increased Productivity
Manual data collection can consume several hours of valuable time during safety incident management. Preverly workplace safety app automates this risk assessment process by allowing other workers who are relatively away from the incident to stay focused during critical operations. The app ensures that the entire workflow of your organization does not get severely affected when an incident occurs.
High Safety Compliance
This workplace safety app maintains robust compliance with the latest EHS standards. It provides every piece of the necessary information for preventing or resolving incidents. The app reduces the non-compliance rate by giving access to these safety standards at the fingertips. The workplace safety mobile application also helps safety managers in creating checklists to speed up the safety procedures. As a result, users can disseminate the incident information quickly and get a response on corrective measures immediately.
Improvement in Data Quality
Field workers can take notes of every health hazard with this workplace safety app. They can use customized checklists and send alerts to their safety managers at the end of their working day. This real-time data, collected through the workplace safety app, is more accurate than post-incident audits. Therefore, the workplace safety app facilitates faster decision-making by ensuring a superior quality of data.
Better Workforce Collaboration
Preverly workplace safety mobile app establishes faster communications within the organization. For example, safety managers can notify the workplace safety updates to workers instantly. In return, the app also helps workers share information on preventing or fixing an incident with the safety managers. This way, on-site workers and plant managers can take the necessary corrective actions quickly and collaboratively.
Prevention of Losses
The biggest importance of the Preverly workplace safety app is its role in saving the lives of your employees. When a potentially fatal incident happens at work, the app helps you get medical assistance quickly. By posting photos and videos, and by sending text notifications, the injured worker gets faster medical assistance. Consequently, this prevents the risks of losing life or property damages.
Enhanced Employee Engagement
The workplace safety app builds a cooperative culture within your organization. Your workers can take swift actions by staying connected with the workplace safety app. During evacuations, the app can directly send the alerts to all employees. It is a highly engaging workplace safety app that helps your workers discuss EHS standards and actively participate in different safety processes.
Preverly Workplace Safety Mobile Application – How it Works?
Now that you know why the Preverly workplace safety app is important, let's find out how it works on your iOS and Android mobile devices. The process of using the Preverly app on Android and iOS devices is quite similar. Here are the steps involved in this process:
Download the Preverly app file
Install the app on your iOS/Android device
Create an account on the app
Enter a username and create a password
Log in to the app with this user account
Allow all app permissions
At this stage, the Preverly workplace safety app is ready for use on your iOS or Android mobile device. For safety managers, the app works differently as it offers more administrative functions. For on-fieldworkers, the app offers a wide range of features on incident reporting, incident tracking, medical assistance, and more.
For iOS and Android users, this workplace safety app simplifies the process of documenting safety incidents, submitting incident response forms, recording and uploading videos or photos, and providing early observations on potential hazards.
For Android and iOS operating systems, the Preverly workplace safety app has some common benefits, such as:
Displaying information properly on all types of screen resolutions
Working smoothly on smartphones as well as tablets
Capturing desktop-like resolutions on your mobile screens
Consuming low internet resources and minimum processing power
Our app developers ensure that all the information on the Preverly workplace safety app is completely in sync with the Preverly desktop software.
Preverly as an Android Workplace Safety App
For Android users, the Preverly workplace safety app has some unique advantages. According to the market statistics, most workers in industries are using Android smartphones. Due to these low-cost devices, the Android app development of Preverly has a higher RoI.
Similarly, the Preverly workplace safety app can be deployed faster on Android smartphones. It can also work well with multiple platforms, enabling cross-platform capabilities. Moreover, there are no scalability issues for Android apps. Preverly workplace safety app offers maximum customization, from enhancing app security to making the app user interface match the look & feel of your brand while making the user experience (UX) more engaging.
Preverly as an iOS Workplace Safety App
For iOS users, these benefits change to a certain extent. The iOS Preverly app can filter data more accurately. The users get a better UX, which has industry-based flexibility. Furthermore, the Preverly workplace safety app for iOS devices is designed for premium workplaces. Therefore, the iOS workplace safety app by Preverly adds a strong brand value to your organization.
The Future of Workplace Health and Safety Apps
Be it Android or iOS, mobile devices will continue to be part of our work in one way or another. Hence, the future for workplace safety apps such as Preverly looks promising. According to the Bureau of Labor Statistics, workplace safety apps like Preverly can save a great number of deaths and injuries on the job. This makes Preverly a game-changer for organizations struggling with occupational health risks. In the coming years, the Preverly workplace safety app will emerge as a life-saving mobile app that not only protects your employees but also builds a better future for your organization.
Are you ready to try the Preverly workplace safety app on your iOS/Android phone? You can get to see how your workplace safety improves with this app by connecting with Preverly at mbrown@preverly.com.