5 Reasons to Get New Safety Management Software During COVID-19 Era
The COVID-19 pandemic has increased safety management awareness significantly. It has driven the demand for safety management software in almost every industry vertical. Workplace safety software solutions are helping companies regrow their businesses. Factory workers and industrial employees are being introduced to new health and safety initiatives such as six-foot-apart physical distancing and automatic temperature scanning. Adopting these initiatives is now mandatory for every company, making safety management software such as Preverly an essential investment.
Existing workplace safety software are failing to respond to the incidents related to the COVID-19 pandemic. Therefore, your company needs up-to-date safety software like Preverly, which can help you track, analyze, record, and maintain the pandemic-related safety incidents, protocols, and documents across your production units and business verticals.
On top of that, there are more reasons why you need to get Preverly to deal with the ongoing COVID-19 pandemic.
5 Reasons for New Safety Management Software During COVID-19
Various pandemic-related circumstances compel companies to invest in new safety management software. The five factors below highlight why new safety tracking software like Preverly is the perfect tool to restart your business in 2021.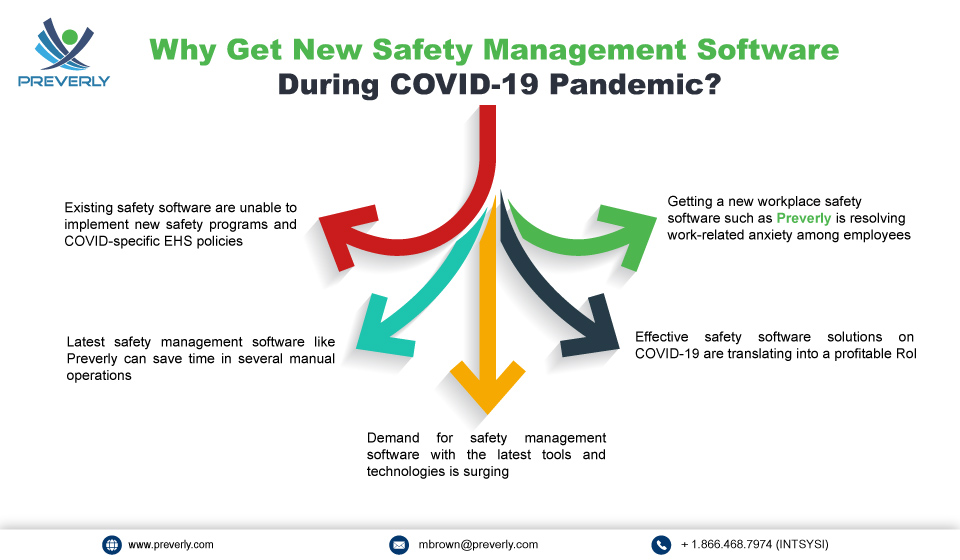 1. New Measures Being Introduced in Workplace Safety Programs
Safety management software helps in maintaining the occupational safety of your employees and workers at an optimum level. As a response to this pandemic, on-site workers now need to follow new safety guidelines as a part of their workplace safety programs. These new measures are transforming their operations and pushing companies to redesign their workplace safety structure. Companies that consider their current safety software as strong and effective for the pandemic, also need to re-evaluate them and make necessary adaptations.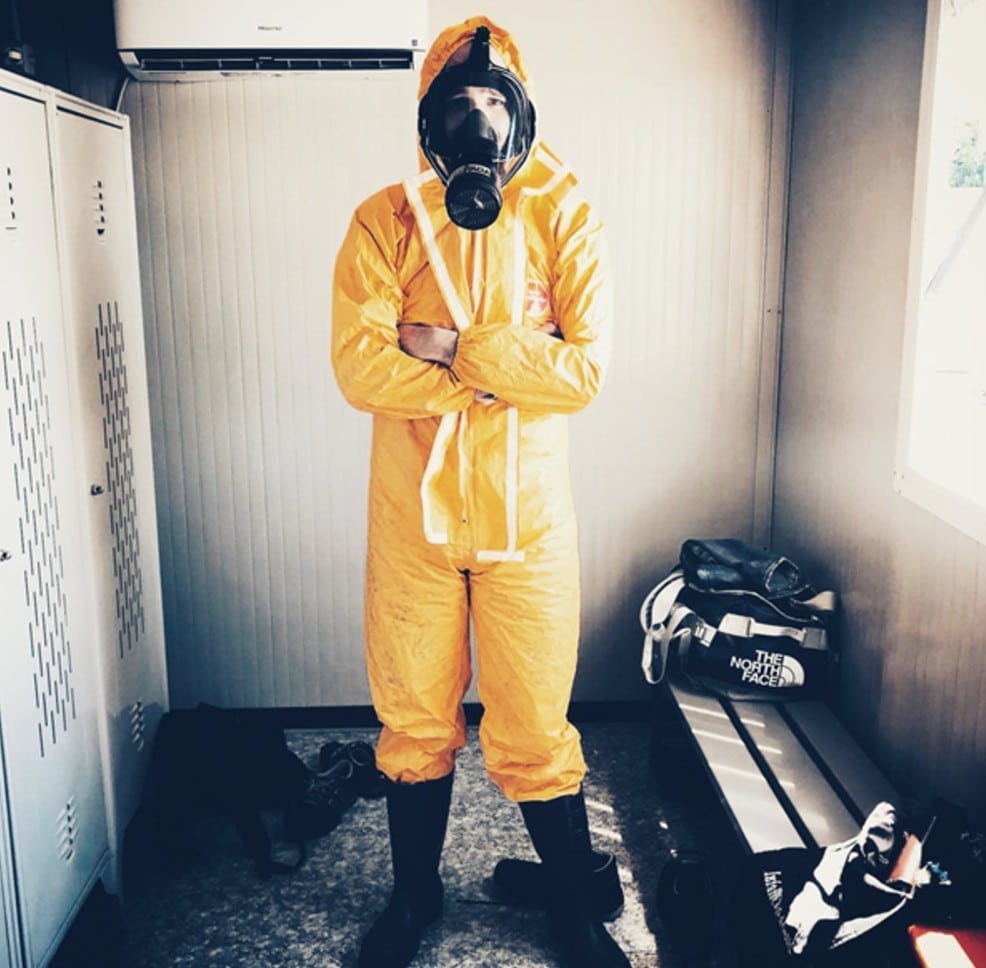 For your existing safety incident management software, its risk assessment functions will require the maximum changes. This is because of the new workplace safety guidelines set by industry regulators and government authorities last year. Now, your existing safety software may not have enough room to bring in these new risk assessment protocols. Even if it does, the software may not work as effectively as it used to under the old, preset protocols. Hence, the only wise option to do is to adopt new safety management software.
Preverly is currently the best safety management software to manage risk assessment activities such as on-site audits and workflow inspections. This safety management software adopts new measures and their associated safety workflows seamlessly in the current pandemic. It provides easier access to compliance forms and inspection forms. It is ready to analyze production processes that get tweaked as per the new safety guidelines.
The decision-makers of big companies also foresee good returns on investing in safety software solutions like Preverly as they plan to increase their productivity and operational efficiency under these tough pandemic-led changes.
2. Time-Saving Safety Software Processes Become Mandatory
Safety management software is implemented within the organizations to save time and costs entailed by work-related hazards and illnesses. Considering the economic slump suffered by companies last year, time optimization is a priority for companies. They can no longer afford to lose time in their health and safety activities, as making bottom-line profit has become their top goal for 2021. Simultaneously, their spending budgets have reduced significantly, which calls for instant solutions on workplace safety.
Companies are thinking ahead of time by investing in safety management software with long-term benefits. They are preparing themselves for the upcoming wave of infections by making a timely investment in Preverly. This workplace safety software can prove to be the biggest time-saver for your company in the coming months.
Preverly is the best safety management software to save time with:
Transparent safety document management
Quick methods for process approvals
Smart incident data analytics
Timely completion of safety measures
Systematic assignment of protocol actions
Such features in the Preverly safety management software can add more efficiency to your company. Furthermore, the software can upskill medical response teams at factories and production units. It can help you recover the lost time by replacing conventional safety programs with advanced workplace safety solutions.
3. Safety Management Software with Latest Technology is in Demand
If your existing safety management software is not packed with the latest tools and technologies, then your company is at a loss for depending on it. Outdated compliance forms and obsolete safety programs of your existing software can create more problems than solving your safety related issues. Updated with the latest technologies, Preverly is a reliable safety observations management software that can help you cope with various pandemic-related changes. For example, Preverly safety management software for manufacturing offers a wide range of benefits, from automated site reviews to stress-free incident reporting.
Preverly safety management software has advanced technologies that can:
support organization-wide compliance of latest safety policies
streamline workplace health and safety processes
enable mobile tracking of on-site corrective actions
Preverly's breakthrough technology is its defining characteristic of being the best safety management software in the market. Furthermore, the safety management software is equipped with internal communications that support virtual operations. This enables site administrators to avoid breaking their bio-bubble while helping employees get the necessary medical attention during infections.
4. Safety Software Solutions Becoming Profitable
By 2020-end, industrial sectors such as manufacturing, oil & gas, and retail were compelled to adopt PPE kits. Similarly, safety management software is witnessing an uptick in demand today. That is because such adoptions are becoming profitable for companies. By investing in solutions that guarantee low risks for the health and safety of their people, companies can save millions of dollars. This translates into a highly profitable return on investment.
Your company can go through multiple proposals before investing in the best safety management software. During this process, your company surely invest in safety incident software solutions that are feature-rich yet reasonably priced. Hence, price points are good reasons to get new safety management software. Being cost-efficient safety management software, Preverly is also packed with the latest technologies and safety programs. Company executives should not shy away from purchasing such workplace safety software that saves them from indemnity costs during this global health crisis.
The following key features make Preverly safety management software worth the investment:
user-friendly dashboards
informative reports
charts and graphs
social media integrations for safety announcements
Such features can strengthen your company's commitment to employee safety. They can remind your organization that a strategic investment in Preverly safety management software made the most important differentiator for your company during the pandemic.
5. Employee Anxiety Needs to be Handled with Workplace Safety Software
The virus is a physiological illness, but your company needs a safety solution that calibrates and caters to the employees undergoing mental health crises.
According to the WHO, depression and anxiety levels at workplaces are rising aggressively on a global scale.
Most people are currently anxious about returning to their offices and factories as they are concerned about getting infected and risking their lives during their on-field jobs. A safety management software can reduce this anxiety by updating the staff about the health score of their on-site environment.
Preverly is the best safety management software to provide a better sense of control to the employees of your company. It can help your staff participate in safety enforcement. It can notify the employees of their own well-being at work. An accurate report generated from this workplace safety software can ensure the protection of workers.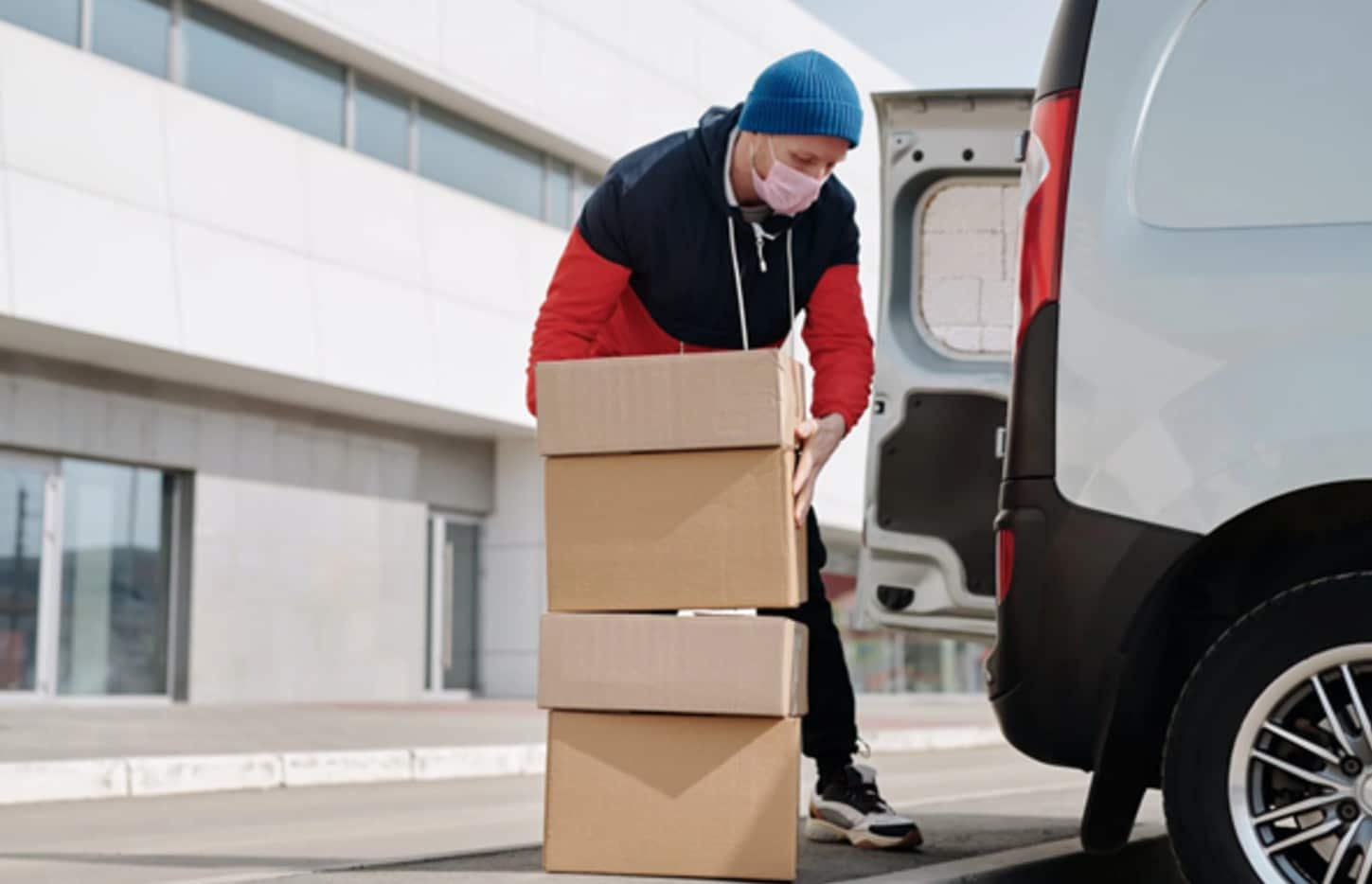 Mobile-responsive forms, easy incident reporting, and instant action plans embedded in this safety management software can eliminate your employees' occupational anxiety. In return, Preverly can indirectly increase employee productivity and benefit your chief executives in rebuilding the company's growth peacefully. Organizations enabled with this safety management software can follow the best practices on hazard observation during the pandemic. Ultimately, your employees would come back to work, knowing that this new safety management software called Preverly is here to safeguard their wellness.
Final Thoughts
In the coming days, more reasons would necessitate the need for new safety management software. However, these five reasons are valid enough to encourage you to invest in the prep for this pandemic. Investing in the Preverly safety management software is not something you should wait for. The virus is here to stay, and it continues to limit your operations indefinitely. You can restore the new normal by adopting Preverly and keep up with the changing business landscape during the COVID-19 pandemic.
Aren't you interested in knowing exactly how Preverly integrates its safety solutions in your company? You can get a quick demo of our safety management software by contacting us at mbrown@preverly.com.