Benefits of Implementing Safety Management Software In Manufacturing Industries
The impact of technology cannot be undermined in the modern lifestyle. It has transformed our business methodologies such as workplace safety. In our day-to-day lives, we are so dependent on digital technologies such as mobile phones, laptops, that we cannot imagine our work running smoothly and speedily without responsive digital assistants. The digital revolution has brought about innovative methods of performing complicated and onerous tasks in an easier, faster, and convenient way. Many of these devices and similar software systems also blend into our professional lives and support us in our work progressions. Departments such as accounting and sales tend to rely deeply on process-driven software applications that simplify data storage and data analysis in an organization.
Environmental Health and Safety (EHS) software is what companies use to manage all their enterprise risk, regulatory compliance, and company data and activities. Safety management in the manufacturing industry is an important goal that many companies have recognized as a rational and effective way to provide a better working atmosphere for workers and to cut corporate expenses. The main work of the Preverly safety management system will be to record incidents in real-time and collect data related to all the incidents that happened on-site.
With an efficient system, the safety team can see precisely where accidents and unsafe conditions are occurring and take practical measures to remove them. Safety management software in the manufacturing industry benefits everyone, the company, the staff and workers, regulators, and stakeholders.
Our Safety Management System, i.e., Preverly enables you to better comply with regulations and other requirements, and help your business minimize injuries and occupational illnesses (or both) and keep your operational costs down. Thus, safety management software has various benefits in manufacturing industries that range from increased productivity to lower costs.
Advantages of Using Preverly In Manufacturing Industries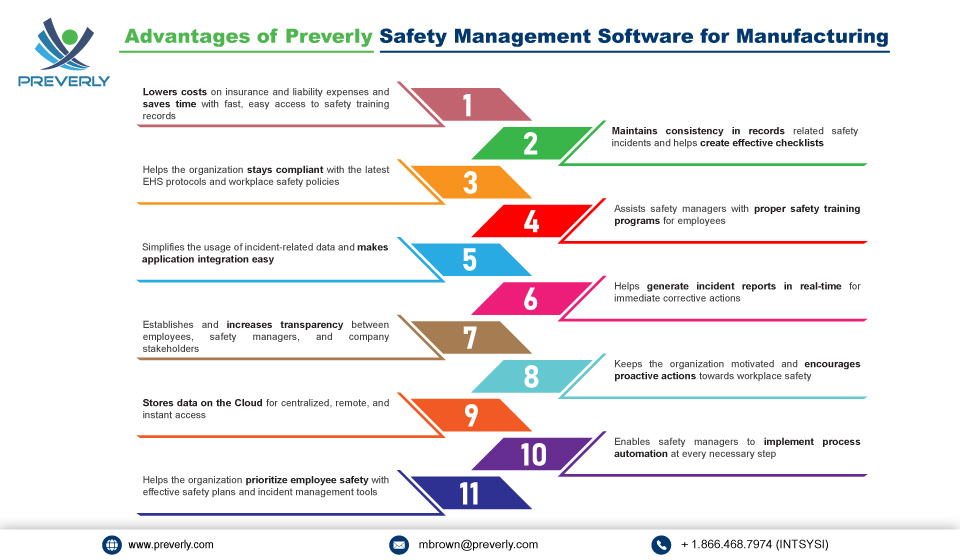 Here are some of the key benefits of Preverly safety incident management software in the manufacturing sector:
Lowers Costs & Saves Time
You can reduce expenses with fast and easy access to safety training records. No need to dig, hunt, or search through time-consuming excel spreadsheets anymore. A strong safety management system not only potentially reduces insurance and liability costs but also saves health and insurance costs for companies.
Keeps Consistency in Records
It makes the EHS process consistent across the organization because everyone everywhere is using the same form or checklist or workflow thereby greatly reducing the individual and subjective errors. This facilitates managing corrective actions easily via digital exchange without exiting the system. Thus, your data is in sync even with contacts outside of your organization.
Maintains Records Effectively
The use of safety management software in manufacturing streamlines workflows by combining all aspects of a safety management system into one solution. This can almost eliminate the use of pen & paper files and bulky filing cabinets.
Stays Compliant
Safety incident software in manufacturing keeps your company compliant and up to date with all standards and regulations which reduce costs caused by a bad performance or regulatory penalties and citations.
Assures Proper Employee Training
It guarantees that your employees are properly trained which in turn empowers your employees to complete their works with great success. This results in the overall performance and productivity of your industry.
Simplifies Usage & Integration
Many times it is difficult to remember a password or username as you log in to yet another Web-hosted site or application portal. Using Preverly offers seamless integration into your existing environment provides you an alternative. It thus facilitates to easily access reports and custom dashboards to analyze and get speedy and actionable visions. Tracking and trending from a single report to every point of data from the beginning to the end of the life of your program is possible with effective safety tracking software in manufacturing.
Reports in Real-Time
Reporting in real-time is possible with the click of a button by sending reports from the field instantly or accessing a dashboard anywhere and anytime.
Increases Transparency
Safety management software increases transparency and visibility by combining data into one central repository. You can spot patterns and gaps in your data from all sources whether across the country, by location, or even by project.
Stays Proactive
By using the safety observations management software, you can inform employees of the appropriate plan of action for any situation according to the training procedures outlined by your corporation. Your employees will be able to combine lagging and leading data so that risks can be evaluated in real-time and proactive steps can be taken effectively.
Stores on Cloud
Cloud-based data storage combined with interactive databases for ease of access and retrieval saves you time and gives you a clear picture of your performance.
Implements Automation
The incorporation of safety management software for manufacturing vastly improves communications using scheduled reports, automated alerts, or targeted bulletins aimed at transporting important information and facilitating vital discussions. One of the biggest advantages of using safety management software in manufacturing is that it brings repeatability to EHS operations. When processes are repeatable, they can be methodically improved.
Prioritizes Employee Safety
Last but not the least, the safety of your employees and their workplace ensures the future of your company. Employee unions, if applicable to your business, often mention safety and health programs or lack of safety in the workplace in their agreements. A strong Safety Management System can assist in alleviating contract disputes. Use Preverly to run safety reports instantly, train employees, and comply with your corporate responsibility. It improves employee relations within the company as everyone is on the same page about safety.
Conclusion
To streamline and manage your industry's safety operations, identify and remove dangerous conditions, and make your worksites safer, consider an integrated safety management system for manufacturing. Preverly can help safety professionals accomplish their daily duties more proficiently and give them the information they need to make correct decisions. This will ultimately help them to improve workers' health, thereby enhancing the image of your company.
If you wish to know more about the safety solutions and integrate them within your organization, please contact our team at mbrown@preverly.com.