How to Pitch Workplace Safety Software in Your Next Management Meeting?
Investing in workplace safety software is a key priority for businesses around the world. In the ongoing global health crisis, such investments are more important as they help in protecting employees at work. As a site manager or an administrator, your role in an organization is very crucial for choosing the best workplace safety software. However, pitching workplace safety software to the key management of your company can become a challenge for you.
Unlike other Software-as-a-Service (SaaS) investments, workplace safety software needs a different kind of pitching. It is almost certain that your organization will not compromise on the safety of its workplace by investing in some cheap, second-rate SaaS solution. For this reason, Preverly offers the most effective safety management solution for workplace safety. Due to its exceptional benefits in managing and preventing incidents at work, Preverly becomes a must-have workplace safety software.
In this blog, we will help you create a great pitch for workplace safety software that convinces your executive directors to make the right investment.
5 Points to Consider while Pitching Workplace Safety Software to Your Top Leadership
Let's say, the next strategic meeting with chief executives and directors of your organization is around the corner. As a safety manager, this makes the perfect time for you to pitch workplace safety software in the meeting. And, like every pitch, you should take multiple factors into account before presenting it in front of the management.
Here are the five points for creating the best pitch on workplace safety software:
Explain the business impact of having workplace safety software in your organization
Create a comparative study on the best workplace safety software available in the market and highlight the best option for your company
Illustrate the technical benefits of a workplace safety software with live software demonstration
Describe the cost benefits of this software and how it fits in the IT budget of your organization
Specify any additional costs that may entail after purchasing the workplace safety software
Most importantly, mention how the return on investment in the long run will be multiple times higher than the cost of implementing & maintaining the software. This point can make or break your proposal.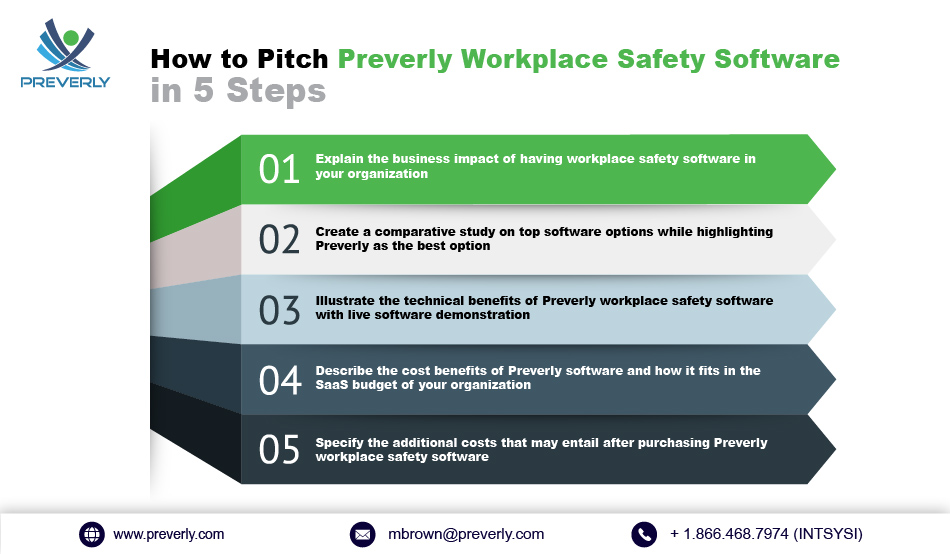 Preparing the pitch based on these pointers will help you cover all the grounds. Information on these points will also provide answers to the questions raised by your bosses. Now, let's have an in-depth understanding of these pointers.
1. Explain the Business Impact of Workplace Safety Software
To start, you should go down memory lane and help your management remember past instances when improper workplace safety disrupted the business. In these instances, you can highlight how lack of workplace safety software, or even ineffective safety software, had made the matters worse. Now, you can help the executives re-imagine these instances, but with workplace safety software and how it helped.
Workplace safety software helps in the management of work-related safety incidents such as health hazards, injuries, and illnesses. By implementing workplace safety software across your organization, the chances of reducing these incidents increase. Your company can also protect its property and assets by identifying avoidable incidents with the help of software.
In this role, Preverly performs exceptionally well as a workplace safety software. It helps your organization manage compliance with Environmental Health and Safety (EHS) protocols. Furthermore, it simplifies the governance of safety management activities with a user-friendly interface. It helps safety managers and site managers in implementing new safety procedures and EHS policies. Also, Preverly helps your organization's leaders realize how its role in improving workplace safety can be profitable for your business.
2. Discuss Best Workplace Safety Software with a Detailed Comparison
After this general introduction, the next step would be to mention all the key players in the market for safety management software. In this part, you can create a comparative study on each workplace safety software, pitting them against each other by underlining their pros and cons.
It is important to note that almost every workplace safety software comes with a costly investment. Hence, you should not follow the regular pitching rules of going for the most expensive option and buying workplace safety software flooded with features. Instead, you should pitch the software that is affordable yet fits the custom business needs of your organization like a glove.
On this note, Preverly workplace safety software offers all essential safety management tools for organizations. The software has great industry-wise flexibility with applications for every type of work-related operation. Preverly is available as an on-premises system as well as a cloud SaaS. Hence, it easily adapts to your IT infrastructure. Furthermore, Preverly is relatively an affordable workplace safety software when compared to the other options.
3. Highlight the Technical Benefits of Workplace Safety Software
In this part of the pitch, it is important to illustrate the technical benefits of workplace safety software before getting into its cost benefits.
Preverly offers a wide range of technical benefits for effective management of work-related incidents. To begin with, Preverly acts as an incident tracking software to monitor the status of safety incidents. It uses KPI-based incident tracking to evaluate and prevent safety risks effectively.
Preverly also helps you generate qualitative analysis on the incidents. The software enables you to generate more than 20 different types of detailed reports on improving the safety of your workplace. This valuable data helps in determining how your company can avoid these risks and modify its operations accordingly.
Most importantly, the user experience (UX) of Preverly helps you with easy management and navigation. Preverly offers a high-quality UX designed for employees as well as safety managers. In addition, the software offers a unified digital platform to record, track, and analyze safety incidents at work. This way, your organization can prevent the recurrence of incidents early.
4. Specify the Cost Benefits of Workplace Safety Software in Your SaaS Budget
Now, you come to the deciding part of your pitch. In this part, you need to specify the costs of investing in workplace safety software. While doing so, it is important to illustrate the range of technical features and software capabilities included under the cost of purchasing the workplace safety software.
When it comes to workplace safety, most executives and business leaders invest as per the feasibility of their IT budget. However, in several organizations, workplace safety software may not be an investment priority. Even then, you can pitch a workplace safety software that is low in cost and high in features.
Preverly overcomes the cost-based barrier to your SaaS investments by offering a sensible per-user cost. The pricing of Preverly workplace safety software is optimized based on active users. For starters, the software could cost your company $10 per user for every month, which would be further optimized when your user-base scales up. Moreover, these costs not only include the desktop and web app versions but also the Preverly mobile app, making workplace safety more convenient.
5. Disclose the Recurring Costs of Software Renewal and Licensing
Before closing your pitch, you should also revise the costs of workplace safety software by revealing the additional charges, if any. Again, it is important to do extensive research on these hidden costs as they may disrupt your company's spending in the long run. For example, various workplace safety software are inexpensive when billed per user, but have high charges for software renewals and licensing. As a result, your company ends up spending much more than their estimates.
Preverly helps you avoid such cost-related discrepancies by minimizing the additional costs. The workplace safety software does not have any major recurring costs or any hidden charges. It makes sure that your organization will have to spend more only when it adds more employees as new users of this workplace safety software. In this way, you help your company understand that it does not overspend on workplace safety software by investing in Preverly.
You could end your pitch by talking a little about indirect costs & damages to company associated with safety incidents. Some of them include lost man hours due injured employee being away from work, training the new replacement employee, insurance costs billed to the company, legal costs, ambulance & other medical costs, reputation damage, lost morale of other employees etc. These potential red flags will definitely get the management thinking on getting a software in place.
And we assure you, once you have Preverly in place, your next promotion as the head of safety department won't be a distant dream. You'll have all your safety related aspects sorted & a solid point to put forth in your next round of appraisals. With Preverly, you'd have not just saved your company some huge dollars & production time, but also human life.
Investing in Workplace Safety Management Tools
Investing in Preverly will give your company a competitive advantage in its administrative operations. This workplace safety software has the safety management tools built for helping safety managers prevent incidents in all kinds of working conditions. In addition to this, the affordable cost of this workplace safety software can help you achieve your goal of converting this pitch into an actual investment.
Are you ready to pitch the best workplace safety software for your organization? Get a live demo of Preverly workplace safety software by contacting us at mbrown@preverly.com to prepare your pitch for the upcoming meeting.