A Safety Software can Enhance the Safety Levels of your Construction Site
The construction and engineering sector is subject to more risks and uncertainties than possibly any other industry. The construction industry has a feeble safety record compared with other industries. Usually, the industry's safety standards are influenced by government safety laws, insurance expenses, legal consequences, and the adoption of technology. The hazards in the construction and engineering sector are occurring worldwide and effective ways to reduce the damage include flawless designs, trained staff, and commitment to developing a safety culture. Moreover, performing safety checks of tools, heavy machinery, and chemicals storage spaces is mandatory.
In this case, safety management software i.e., Preverly can help you out. The safety tracking software is specially designed for construction sites and comes with various unique features that can be helpful for on-site workers and the organization itself. The software will enable real-time reporting of every incident that happens on site and help the employees to prepare a quick report from the data collected.
The legal conditions have been considerably toughened in recent times and organizations come face-to-face with various complex challenges and issues. The construction and engineering sectors have aggressive competition, a strong focus on cost management, and regulative overlooking. There is a trend emerging towards distributed engineering, sourcing, and assembly. These would influence the need for simplified and adaptable risk and incident management systems or solutions.
Timely inspections and accurate reporting of bug findings will decide where your organization stands on the safety chart. The safety management systems were always there in the industries as directed by the government bodies. But accidents and machinery failure numbers kept increasing over the years. We cannot deny the fact that technology has taken over and has been enhancing our day-to-day tasks. Blending technology with the traditional safety incident management system makes any organization a better and safe place to work.
Enhancing Workplace Safety in the Construction Sector
Safety at construction sites can be managed with the help of our safety management software "Preverly" now. The safety incident software application will be helpful, as it will help onsite workers to report an incident online, prepare documents, save evidence like images and videos. Furthermore, this safety incident management software will minimize human intervention and will save valuable time so that required action can be taken instantly.
The total package of processes, organizational workflows, risk/incident management, and controls can be recorded in Preverly. It is understandable that an accident is common in areas like construction and engineering but if you do not learn from past mistakes it would cost you more damage and it is equal to have inappropriate equipment and machinery. So, it's necessary for you to find out the problematic areas and sort out the issues so that the same incidents are not repeated. Maintaining a safe working environment will help you save valuable resources and time saved from such incidents can be used in a higher ROI generating area.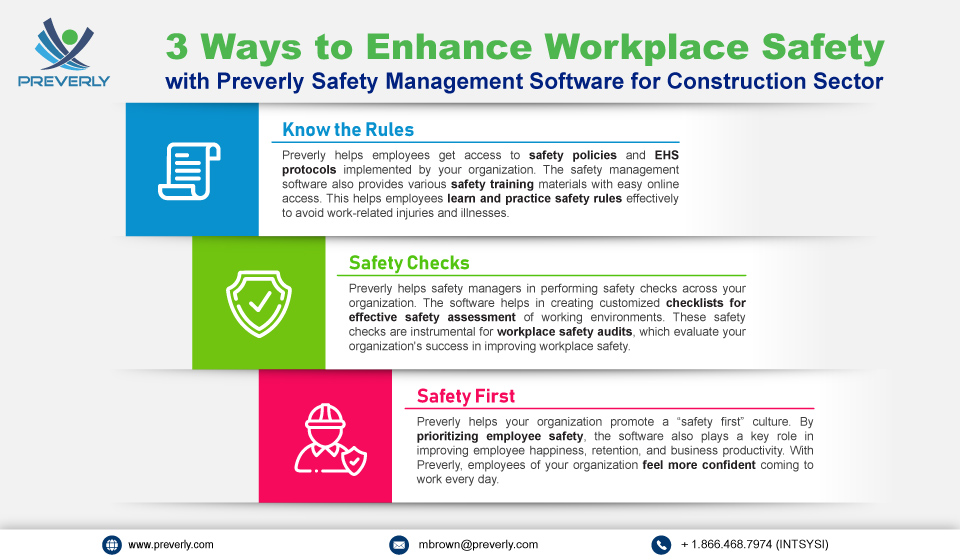 Providing a safe working environment should be the primary concern of every organization. This will not only boost employee's confidence but will also enhance the bond between the workforce and the management.
Rather than focusing on a specific site, transparency could be useful to create a clear understanding of the industry-wide situation and lead to having better guidelines and practices for employees.
When accidents happen at construction sites, the chances of death and serious injuries are very high.
The construction or engineering industries consist of a wide range of departments and jobs, and most of them exposed to hazards.
Know the Rules
Each industry has a different bundle of rules and regulations set by OSHA. So, make sure you follow the appropriate guidelines. The primary job is to understand OSHA's safety regulations. These guidelines include trench safety, personal protective kit usage, fall protection, and heavy vehicle usage protocols. FY2020, out of 6,653 inspections OSHA sent 16,847 notices to the construction companies, which resulted in total penalties of $59,598,556. Although these numbers are less compared to the previous year, we can expect a rise in these numbers by the fiscal year ends. In the year 2019, OSHA issued 31,788 citations out of 12,468 inspections, with a total of $102,068,371 of penalties. By the end of FY2020, we will get to know if the COVID-19 pandemic has any influence on this.
Solving health and safety problems is not just essential to protect construction workers, it is also important for the companies. The health and safety of employees have measures not only for productivity and smoother workflow but also because companies save themselves from:
Being fined by the Health and Safety agencies
Stoppages
Prosecuted for oversight
Sued for accidents, deaths, and injuries
Also, not following the guidelines and regulations set by safety authorities or violating them leads to the above actions as well as damages the company's reputation. Hence, it is also within the management's best interest to ensure that the legal health and safety measures are followed and maintained at their worksites.
Safety Checks
In construction and engineering industries, few areas are prone to moderate to high risks. Such areas need to be inspected often and records to be stored. Performing safety checks of tools, heavy machinery, and chemicals storage spaces is difficult yet mandatory. In this case, our safety management software i.e. Preverly will allow workers to report any incidents or machinery damages swiftly. Insights feature helps you to figure out more vulnerable areas and take needful actions.
Safety First
We all know that in an industry like construction, everyone is usually concerned about costs, and productivity – but that should not be more than the safety of employees. Ignoring the health and safety of workers would be very crucial for any company. Right from the CEO to the front-line workers, everyone is required to follow the same safety practices. Prioritizing safety can lead to a reduction in costs and a more productive workforce.
One-Stop Solution for Safety Management – Preverly
Performing site inspections at appropriate intervals and reducing risks is exceptional yet sometimes mishaps still happen. When an incident occurs, you will require data and reports to prove safety inspections have been performed. Our safety observations management software for construction sites Preverly enables you to enhance your quality of performance and minimize your liability risks. It is observed that inspection reports get lost or not found when required. In this case, to protect the company's data and compliance our safety management software for construction industries Preverly offers cutting-edge document and data management solutions that store the documentation of safety checks, audits, and actions.
Preverly is one of these solutions. This collaborative, cloud-based project management software features a robust solution for organizing, collaborating on project data, any time. Replacing traditional tools like pen and paper with Preverly helps you track and maintain field reporting, quality, and delivery statistics.
If you wish to know more about the safety solutions and how to integrate them on the worksite, feel free to contact our team at mbrown@preverly.com.