How Does Incident Reporting of Safety Incident Management Software Work?
At any workplace, the safety managers are responsible for keeping track of every health hazard, employee illness, and work-related safety incident. To do this, they use safety incident management software that has the "Incident Reporting" feature. This feature helps the workers, and the employers as they get an open channel to communicate and report workplace incidents. While this concept of incident reporting has been around for quite some time, safety incident management software makes it more effective.
Incident reporting is a primary function of Preverly safety incident management software. It is designed to improve safety in the workplace with proper management of health hazards and work-related illnesses. The incident management software such as Preverly helps the management and the workers in various ways. Before we learn how the safety incident reporting software works, let us understand its importance for the well-being of an organization.
Importance of Incident Reporting Software in Workplace Safety
Reporting an incident on time makes a huge difference in the safety of employees working in an organization. Nowadays, incident management software can improve the efficiency of industries and manufacturing environments. It can automate the incident reporting process in the workplace and make the employees and workers feel confident about their safety at the workplace. So, let's understand why safety incident management software is important.
1. Threat Awareness
Incident reporting is essential because it raises an organization's awareness about workplace threats. For example, the Preverly incident management software can help safety managers identify things that can go wrong at work. Such incident management software becomes very applicable for industries involving manual labor and manufacturing tasks. Some common examples of workplace threatsor potential hazards include:
Faulty equipment
Malfunctioning machinery
Lack of training
Absence of safety equipment
The safety of workers could go unresolved when these potential threats go unnoticed in the absence of incident management software. The software can help safety managers' report such threats and take preventative and corrective actions promptly.
2. Valuable Data on Environmental Health and Safety
Incident reporting software generates data on the Environmental Health and Safety (EHS) of a workplace. Incident reports are developed on dozens of critical questions, like how the incident happened and what the workplace is lacking etc. Incident reports generated with Preverly can record what may seem like minor incidents but could be symptoms of a much bigger problem.
Such an EHS incident management system software provides real-time, valuable data which can be used to assess the organization's workplace safety from time to time. Moreover, this data can help in providing additional training to employees and improving the working conditions of equipment. Besides, the reports generated by incident management software can also help an organization level up its EHS strategies.
3. Readiness for Emergencies
Most employees do not hesitate to mention something unusual happening at work. However, simply mentioning doesn't exactly give the push for urgency. Incident reports can help organizations in quick decision-making and taking immediate and purposeful actions during such workplace emergencies. Moreover, developing incident reports through Preverly's incident management software can help safety managers in recording as many witness testimonies as possible. This can help them support the legitimacy of the incident, and therefore, ensure what needs to be done to prevent such incidents in the future.
4. Alertness
Lastly, incident management software can keep the members of an organization alert. It can notify them about the incident reports and highlight the things that require immediate resolutions. The Preverly incident management software has a workplace safety mobile app that can send these notifications in real-time. It can help the workers get instant alerts and send incident reports to the upper-level management, thereby helping them in making strategies for preventing such incidents in the future. It can categorize the reports based on the severity and help the management to gather more details of the incident with a formal documentation process. In such a manner, the health and safety incident reporting by Preverly not only benefits an organization's workplace safety, but also acts as a vehicle for its overall growth.
How Does Incident Reporting of an Incident Management Software Work?
The above factors highlighted the importance of reporting workplace incidents. Now, it is necessary to understand how safety incident reporting software works. In a workplace, every incident needs to be reported, investigated, and documented in a certain way. Here is what a safety incident report covers:
The identity of the employee injured or became ill from a possible reaction to the workplace conditions
The property or the equipment where the damage occurred
The identity of any other person, besides the victim employee, who was injured or became ill as a result of the incident
The nature of work of the employee (for example – a driver in a motor vehicle manufacturing company)
Any near-miss incident that could have resulted in more serious injury, loss of property, or death
Any hazard reporting program that was already implemented but failed to resolve the incident due to improper reporting, lack of employee's knowledge, or other reasons
Based on these grounds, the incident management software helps in reporting an incident. Hence, the organization and its members must be trained and educated on the definition of the things being covered in an incident report.
Incident Reporting Process with Preverly Incident Management Software
When an incident occurs, every organization must follow the incident reporting process defined by their organization. In this process, safety managers use the incident management software to enter data on the various factors to be covered in the report. Preverly incident management software, for example, reports an incident in more than a dozen key performance indicators (KPIs). Here are some of the main KPIs used by Preverly for incident reporting:
Incident Recorded Rate
DART (Days Away, Restricted or Transferred) Rate
Recurring Incident Rate
Type of Incident
Potential Hazards Observed
Employees need to report directly to the safety managers and file the details of the report based on such KPIs. An online incident management platform such as Preverly helps the employees connect with the safety managers directly. Furthermore, the incident management software contains a standard incident report form for employees to open, fill, and submit.
Preverly's Unique Incident Reporting Features
When the incident details are submitted, the incident management software records, analyses and tracks this data to generate incident reports. Being one of the top 10 safety incident management software in its league, Preverly has dynamic incident reporting features.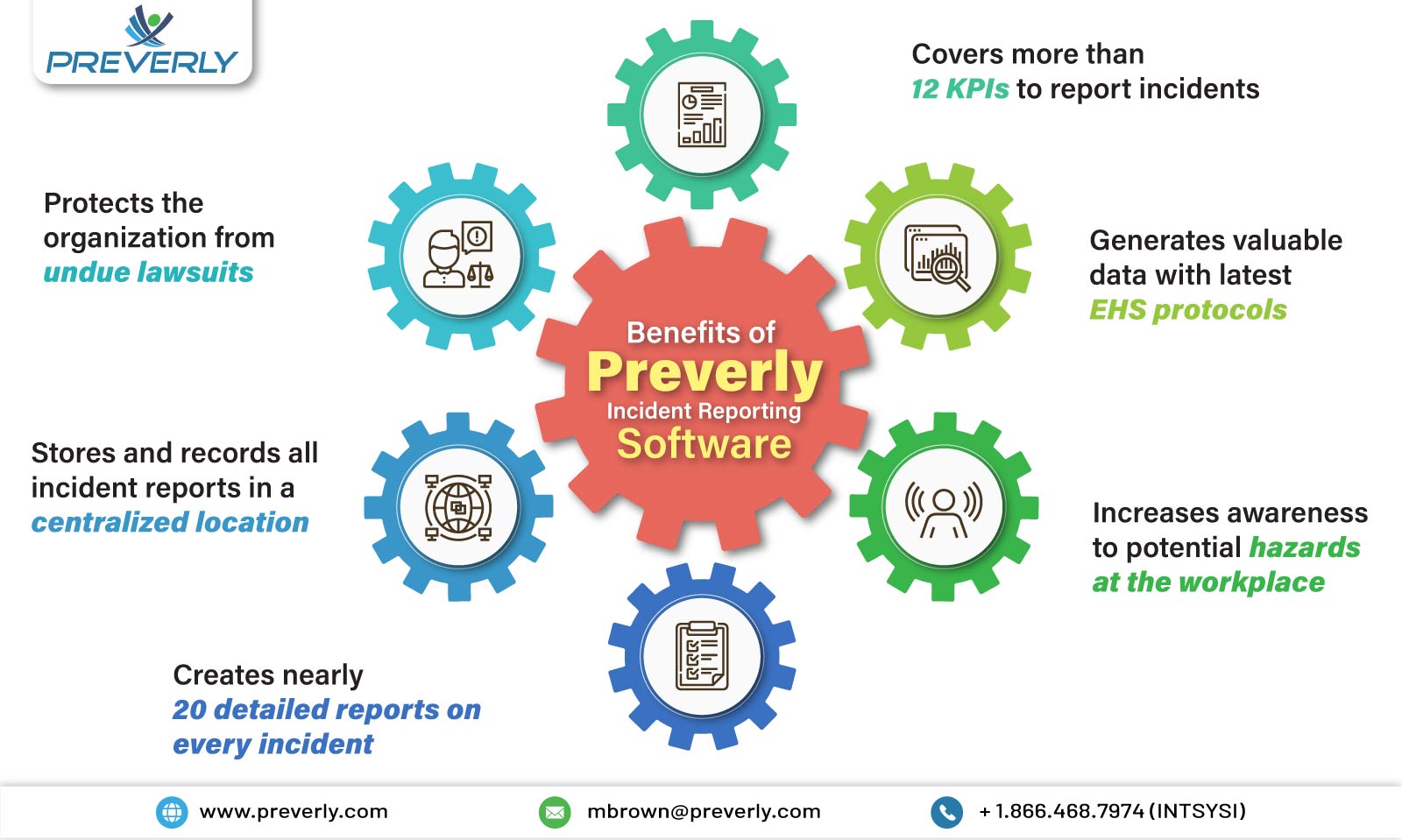 With Preverly's incident reporting, you can:
Create and implement an incident reporting process for your organization
Customize this incident reporting process to fit every workplace situation of your organization
Identify incidents based on similarities and help in preventing their occurrence in the future
Make the management aware of all kinds of problems (minor and major) occurring in the workplace
Provide access to prompt medical attention support to mitigate life-threatening incidents
Highlight the future risks of ignoring a minor incident
Suggest and discuss corrective actions with safety managers and other employees
Document all incidents in a format that helps you track patterns, discover anomalies, and realize trends
Keep your organization away from undue lawsuits by keeping a complete record of workplace safety incidents
The above features make Preverly the easiest incident management software to track and report the near-misses and injuries at work. Therefore, every employee equipped with Preverly incident management software can identify and report an incident before it causes any potential harm. This software also determines a follow-up process, if required.
Safety Incident Reporting with Preverly
By now, you must have understood the importance of incident reporting and the role of incident management software in an organization. Simply put, an incident report is an effective feature of the software for taking workplace safety seriously. And, the incident reporting features of Preverly are unique. The software stores your incident reports in a secure location for future assessment. It centralizes the incident management system of your organization by storing data in one secure location and enabling management for a unified dashboard. It helps you review the incident data and measure your incident management efficiency by providing more than 20 different types of detailed reports. In other words, Preverly helps you track the status of every incident, right from uploading photos and videos to generating official incident statements.
Are you ready to improve your workplace safety with effective incident reporting? Get a quick demo of Preverly's incident reporting features by connecting with us at mbrown@preverly.com.